As a  by-product of the Explistats Consistent Payrolls Series, we obtain the mathematical seasonal adjustments (SA) factors predicted for the coming months, superimposed, with their quirks, on the underlying statistical trend.
This combination of trend and SA factors do not result in a smooth, straight-line continuation.
This is due to quirks inherent in the individual statistical models used by the BLS.
The trend "forecasts" give us a baseline as to what to expect
in the next set of published numbers if the trend were to continue.
The quirks inform us as to how big a pinch of salt to take
with those future numbers.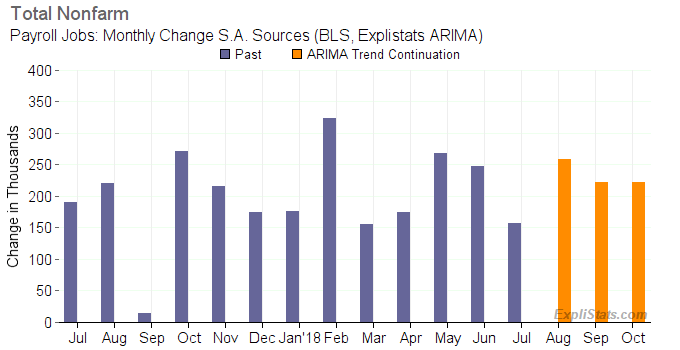 For what it is worth, the trend forecast numbers for the August payrolls survey (to be published tomorrow morning, Friday, September 7th. are:
Total Non-Farm Jobs:  258.000 increase
Private Non-Farm Jobs:  253,000 increase
Quirkiness arises at the lower, more detailed industry models, of which the Total NonFarm numbers represent the aggregation.
We will be watching out tomorrow for two of the quirkier seasonal adjustment models: Education & Health Services, and Computer System Design Services.  The latter, although small in total number of jobs, is predicted to deviate from its recent growth rate quite considerably in August (at least on July's mathematical model)