From the Bureau of Labor Statistics' News Release:
The Consumer Price Index for All Urban Consumers (CPI-U) increased 0.1 percent in December on a seasonally adjusted basis, the U.S. Bureau of Labor Statistics reported today. Over the last 12 months, the all items index rose 2.1 percent before seasonal adjustment. An increase of 0.4 percent in the shelter index accounted for almost 80 percent of the 1-month all items increase. The food index rose in December, with the indexes for food at home and food away from home both increasing. The energy index, which rose sharply in November, declined in December as the gasoline index decreased.
See also corresponding CPI-W chart Contributions to this month's rise in the index can be found in the right-most column of this table:
Contributions to All-Items Monthly % Change

All items. CPI-U. Seasonally Adjusted. 100 Basis Points = 1% (May not add to total due to rounding.)
Expenditure Group
Basis Points
Oct. 2017
Nov. 2017
Dec. 2017
All Items
11
39
15
Food and Beverages
1
0
2
Housing
13
10
14
Apparel
-0
-4
-1
Transportation
-7
29
-3
Medical Care
2
0
3
Recreation
-1
-0
0
Education and Communication
1
2
1
Other Goods and Services
1
0
-0
See contributions of sub-sectors for further break-outs.

The same contributions in the above table are shown here graphically: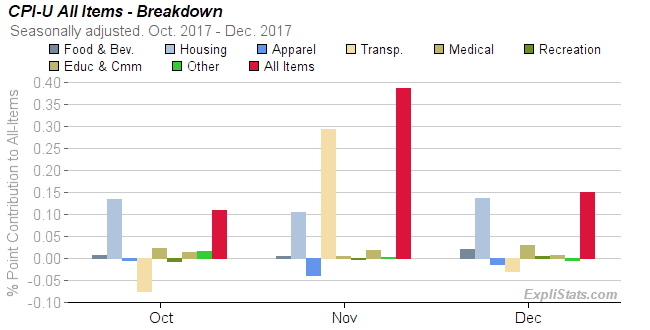 This article was generated automatically from our database. We can automate custom reports, spreadsheets and data feeds for our clients. Please contact us with your requirements.