This article was generated automatically from our database. We can automate custom reports, updating spreadsheets and data feeds for our clients. Please contact us with your requirements.
Industry-Area Pairs with Most Extreme Wage Growth
Note that the Bureau of Labor Statistics reports at different levels of industry detail depending on the geographical area. Thus, more detailed industry sectors tend to be reported only at the statewide level.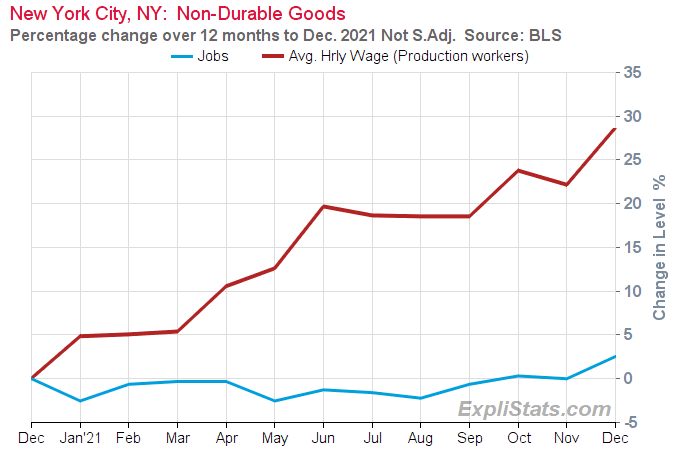 Top 20 Area/Industries Ranked by Growth in Hourly Wage Jobs: All Employees. Wages: Production workers only. Not Seasonally Adjusted.

Area
Industry
Dec. 2021
Yr/Yr Growth
Jobs
$/hr
Jobs
$/hr
New York City, NY
Non-Durable Goods
32,300
$23.85
2.5%
28.6%
New York City, NY
Manufacturing
53,900
$26.20
0.9%
25.5%
Indianapolis-Carmel-Anderson, IN
Retail Trade
109,000
$17.18
4.0%
22.3%
St. Louis, MO-IL
Non-Durable Goods
46,900
$22.45
6.8%
22.0%
Texas statewide
Fabricated Metal Product Manufacturing
128,900
$26.43
12.0%
20.9%
Minnesota statewide
Food Services and Drinking Places
181,600
$17.24
61.4%
20.4%
Minneapolis-St. Paul-Bloomington, MN-WI
Accommodation and Food Services
127,200
$17.54
55.5%
19.2%
Arizona statewide
Durable Goods
138,100
$24.12
2.5%
18.5%
Minneapolis-St. Paul-Bloomington, MN-WI
Food Services and Drinking Places
115,900
$17.30
51.1%
18.4%
Texas statewide
Gasoline Stations
89,300
$14.69
1.5%
17.9%
Pennsylvania statewide
Food Manufacturing
76,700
$22.97
7.7%
17.0%
San Antonio-New Braunfels, TX
Manufacturing
51,700
$20.93
1.4%
16.7%
Texas statewide
Wholesale Trade
626,500
$28.60
6.1%
16.0%
Dallas-Plano-Irving, TX Metropolitan Division
Durable Goods
125,500
$29.99
0.8%
15.1%
Michigan statewide
Accommodation and Food Services
317,800
$15.24
35.9%
15.0%
Phoenix-Mesa-Scottsdale, AZ
Manufacturing
137,900
$23.12
3.0%
14.9%
Texas statewide
Clothing and Clothing Accessories Stores
120,700
$16.10
8.3%
14.8%
Washington statewide
Food Manufacturing
35,200
$23.45
-3.6%
14.5%
Minnesota statewide
General Merchandise Stores
62,000
$15.60
1.3%
14.5%
Indiana statewide
Accommodation and Food Services
251,900
$14.65
8.3%
14.4%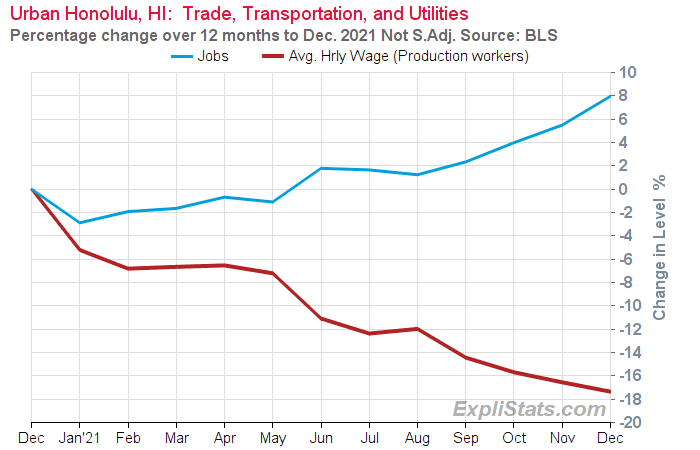 Bottom 20 Area/Industries Ranked by Growth in Hourly Wage Jobs: All Employees. Wages: Production workers only. Not Seasonally Adjusted.

Area
Industry
Dec. 2021
Yr/Yr Growth
Jobs
$/hr
Jobs
$/hr
Urban Honolulu, HI
Trade, Transportation, and Utilities
78,600
$26.87
8.0%
-17.4%
West Virginia statewide
Finance and Insurance
22,600
$18.38
-2.2%
-13.3%
West Virginia statewide
Financial Activities
29,000
$18.36
-1.0%
-10.8%
Urban Honolulu, HI
Financial Activities
22,200
$22.39
2.8%
-9.5%
Alaska statewide
Manufacturing
7,600
$25.83
18.8%
-9.4%
Illinois statewide
Information
86,900
$32.29
1.3%
-9.3%
Michigan statewide
Building Finishing Contractors
15,400
$23.38
-3.8%
-8.0%
Maryland statewide
Non-Durable Goods
56,800
$20.80
5.8%
-7.9%
Hawaii statewide
Trade, Transportation, and Utilities
110,500
$27.78
6.6%
-7.7%
Urban Honolulu, HI
Retail Trade
41,500
$20.26
4.0%
-7.6%
Mississippi statewide
Durable Goods
94,500
$19.64
2.1%
-7.1%
Hawaii statewide
Retail Trade
63,000
$20.24
2.8%
-6.9%
West Virginia statewide
Durable Goods
27,800
$21.25
8.6%
-6.7%
Mississippi statewide
Manufacturing
146,700
$20.27
2.7%
-6.0%
Colorado statewide
Durable Goods
90,600
$28.28
0.3%
-5.6%
Warren-Troy-Farmington Hills, MI Metropolitan Division
Health Care and Social Assistance
155,900
$24.70
-0.8%
-5.3%
Connecticut statewide
Non-Durable Goods
34,900
$21.71
8.0%
-5.3%
Denver-Aurora-Lakewood, CO
Manufacturing
70,400
$27.97
2.5%
-5.1%
Salt Lake City, UT
Wholesale Trade
34,900
$25.18
3.6%
-4.9%
Minnesota statewide
Ambulatory Health Care Services
156,700
$34.94
1.7%
-4.8%